Blackmagic Design HyperDeck Studio Mini | HYPERD/STM
SKU: HYPERD/STM
---
Item usually ships within 7-10 business days, direct from Australian distributor.
---
The Hyperdeck Mini is a cost effective, compact, file based stand-alone recorder - ideal for DDR playout or redundant record of a program output from a video switcher. 
Features;
Records Up to 3840 x 2160 at 30 fps
Plays Back Up to 3840 x 2160 at 30 fps
1 x 6G-SDI Input
1 x HDMI and 2 x 6G-SDI Outputs
Records Uncompressed / ProRes / DNxHD
Front Panel Buttons, Jog Wheel & LCD
Blackburst / Tri-Level Sync Input
Rackmountable Form Factor
USB-C, Ethernet PoE+, RS-422
For a list of compatible SDXC media, please see the list below;
The following SD cards are recommended for recording
Recommended SD cards for HD recording:
| | | |
| --- | --- | --- |
| Sandisk Extreme PRO (64/32 GB) | Max Read/Write- 95MB/s | SD UHS I |
| Sandisk Extreme (64 GB) | Max Read/Write- 90MB/s | SD UHS I |
| Sandisk Extreme Plus (64 GB) | Max Read/Write- 90MB/s | SD UHS I |
Recommended SD cards for Ultra HD recording:
| | | |
| --- | --- | --- |
| Lexar Professional 2000x (64 GB) | Max Read/Write- 300MB/s | SD UHS II |
| Sandisk Extreme PRO (128/64/32 GB) | Max Read/Write- 300MB/s | SD UHS II |
HyperDeck Studio Mini is a portable broadcast quality deck that records ProRes onto commonly available SD cards. You get 6G-SDI for recording all formats up to 2160p30, dual SD card slots for non-stop recording, a built in LCD screen and familiar VTR style front panel controls, all in a design that can be used on the desktop or in ⅓ of a standard rack space! HyperDeck Studio Mini also features 720p and 1080p 4:4:4:4 file support with fill and key outputs so it can be used as source to provide broadcast graphics to live production switchers for downstream keying over live video!
The combination of powerful features and incredibly small size make HyperDeck Studio Mini the world's most versatile professional broadcast deck. Its small size allows you to create custom deck solutions in a single rack by pairing it with other products, or it can be used by itself on the desktop. For example, you can add high quality 10-bit playback to client viewing and conference rooms, use it as a broadcast quality portable field recorder for live program masters and ISO recordings, and you can even daisy chain them together to create massive digital signs!
Multi Format Mastering
HyperDeck Studio Mini features 6G-SDI for working in all SD, HD and Ultra HD formats up to 2160p30. When combined with Teranex Express you can create multi format masters for worldwide distribution! Simply playback from a HyperDeck Studio Mini into a Teranex Express, convert the signal into virtually any other format, then output it back to another HyperDeck Studio Mini and record it, all in the space of only two rack units! That means you can record in the original format of the production, but at the same time master to other formats for worldwide distribution.
ISO Recording
HyperDeck Studio Mini's small size makes it easy to connect to cameras in the field as ISO recorders on live multi camera shoots, or you can rack multiple units side by side in a control room. Plus, because SD cards are incredibly durable, inexpensive and much smaller than any other type of media, they're perfect for retaining the original media from each camera in case you need to edit it later!
Live Broadcast Animations
HyperDeck Studio Mini can playback HD ProRes 4:4:4:4 files at up to 1080p60 via the Dual Link SDI fill and key outputs. That means you can use HyperDeck Studio Mini as a source for broadcast animations with alpha channels and key them over live video in realtime with your switcher's downstream keyer! Plus, because it has an ethernet connection, animation files can be updated on the fly via FTP, so you can get completely customized broadcast graphics on the air the moment you need them!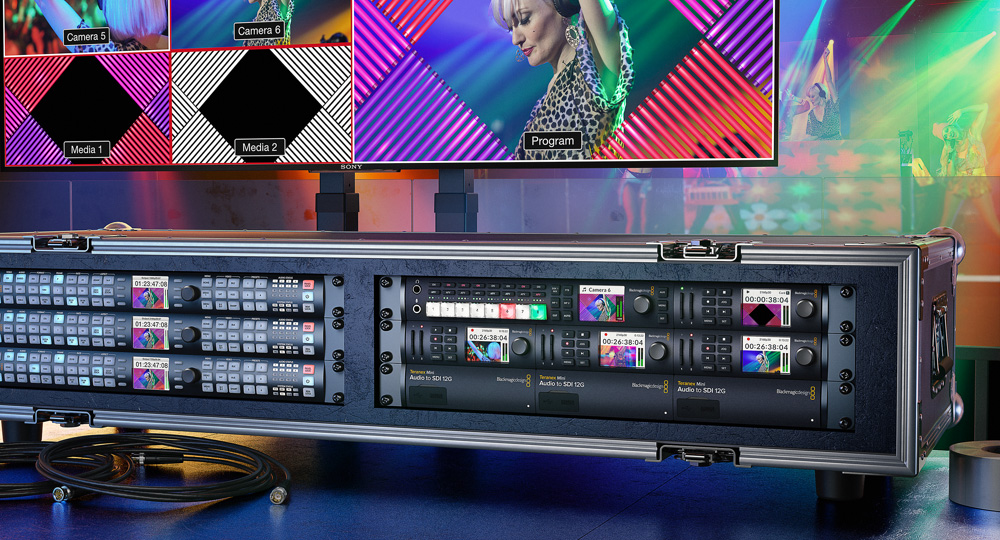 Digital Signage
HyperDeck Studio Mini is ideal for playing content on massive high resolution digital signs, even those that are made up of multiple screens! The built in reference connections and sync generator let you connect and lock multiple HyperDeck Studio Mini's together so you can keep them playing in perfect synchronization! Imagine having 8K, 16K or higher resolution digital signs by combining multiple HyperDeck Studio Mini's to playback in sync on multiple Ultra HD displays! Plus, because the media files are stored locally on the SD card inside the HyperDeck, you never have to worry about losing video playback if the internet connection goes down!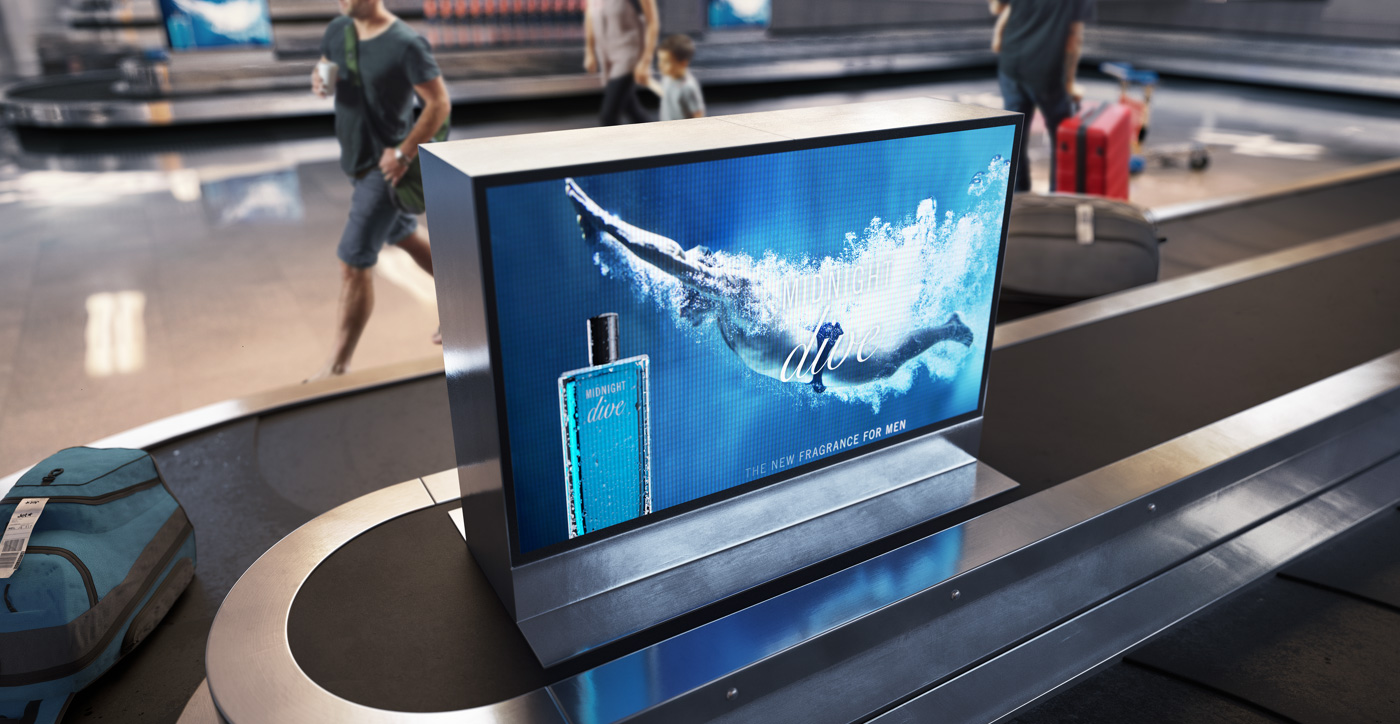 Event Recording
HyperDeck Studio Mini is great for recording events such as seminars, musical performances, worship services and more. For events with one camera, simply connect your camera to HyperDeck Studio Mini and hit record. If you're on a multi camera shoot, connect the cameras to a live production switcher such as an ATEM Television Studio HD and then record the program output using HyperDeck Studio Mini. You can even connect HyperDeck Studio Mini to a Blackmagic Duplicator 4K and create multiple runs of SD card copies that you can distribute to attendees!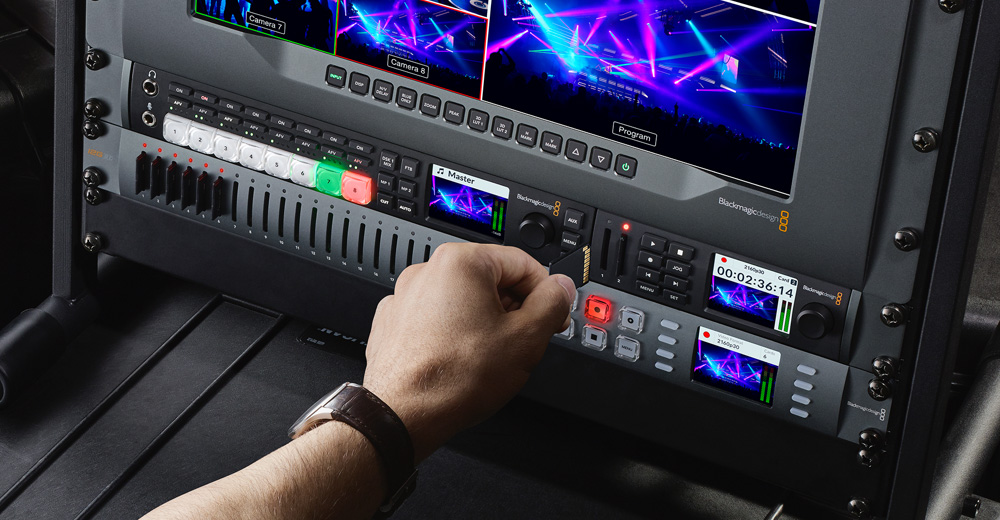 Conference Rooms
The HDMI output makes HyperDeck Studio Mini perfect for video playback in conference rooms and client review theaters because you can easily connect it to large screen televisions and projectors. You get broadcast quality playback from tiny SD cards and could even update the content via FTP for remote review and approval sessions with a client! The elegant design looks great on a desktop or conference room table and it even includes a set of non-skid rubber feet to keep it firmly in place when you're using the front panel controls!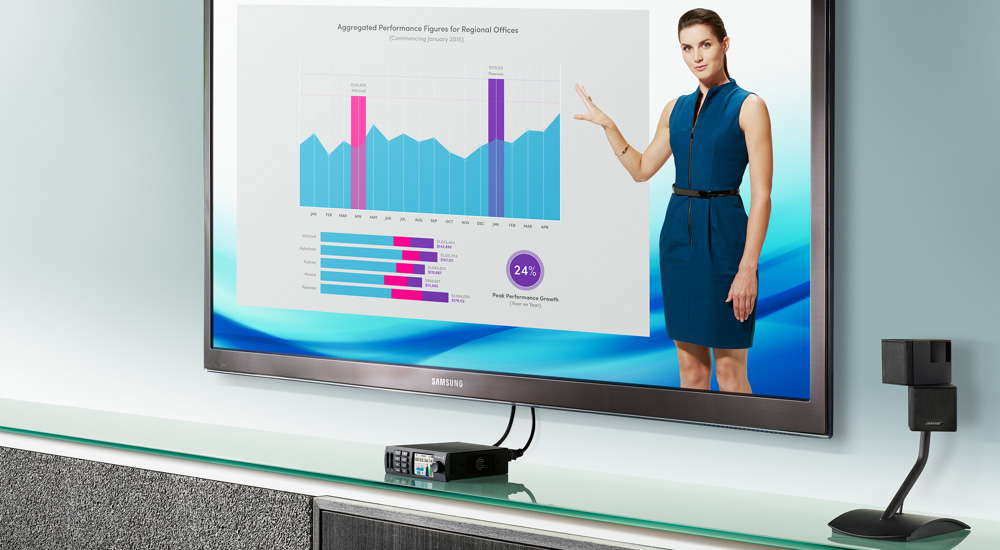 Archives
Videotape degrades over time, however with HyperDeck Studio Mini you can protect your content by transferring it to long lasting, inexpensive solid state SD cards! Instead of having a room full of videotapes, you'll only need a shelf full of SD cards! HyperDeck Studio Mini can record direct from your old analog decks simply by connecting a Teranex Mini Analog to SDI converter to the deck's SDI input and rack mounting both side by side!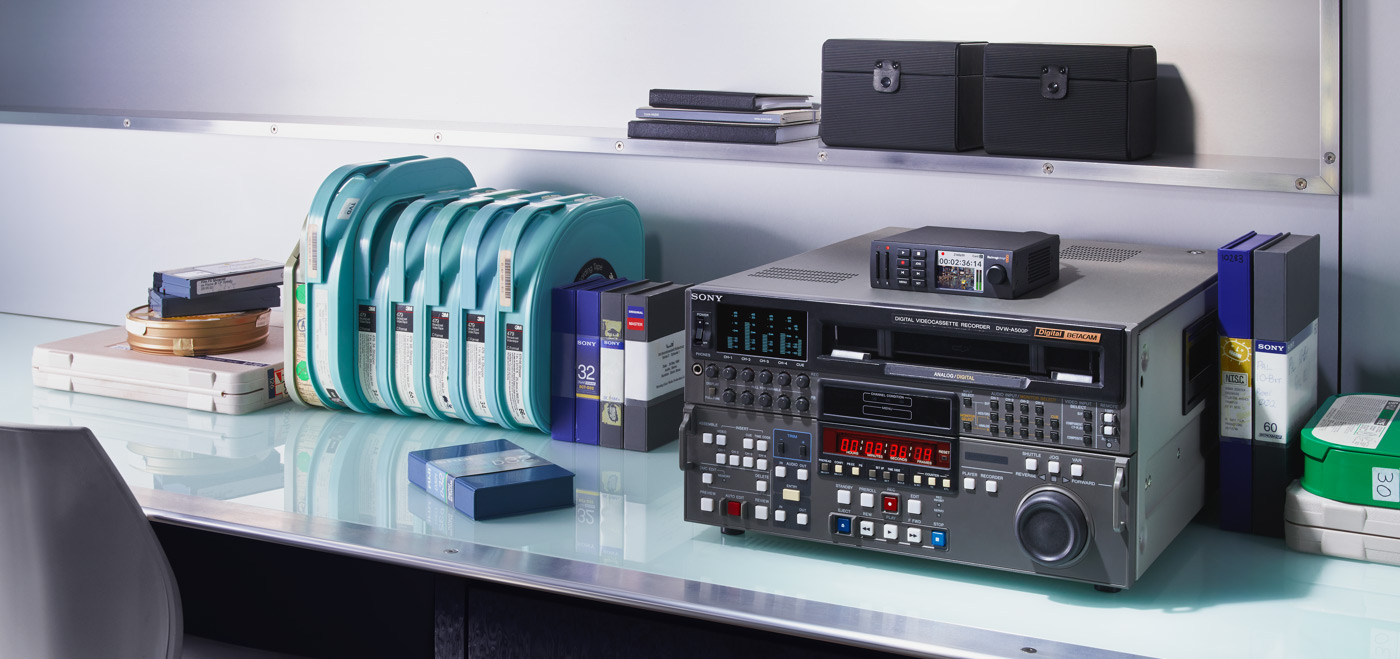 Internet Delivery
You can use HyperDeck Studio Mini along with a Blackmagic Web Presenter to record a high quality master of your web broadcast while it's streaming out live over the internet! You get a broadcast quality archival master in ProRes format that looks far better than compressed web video. Plus, you can encode and upload a copy online so anyone that missed your live web broadcast can watch it later!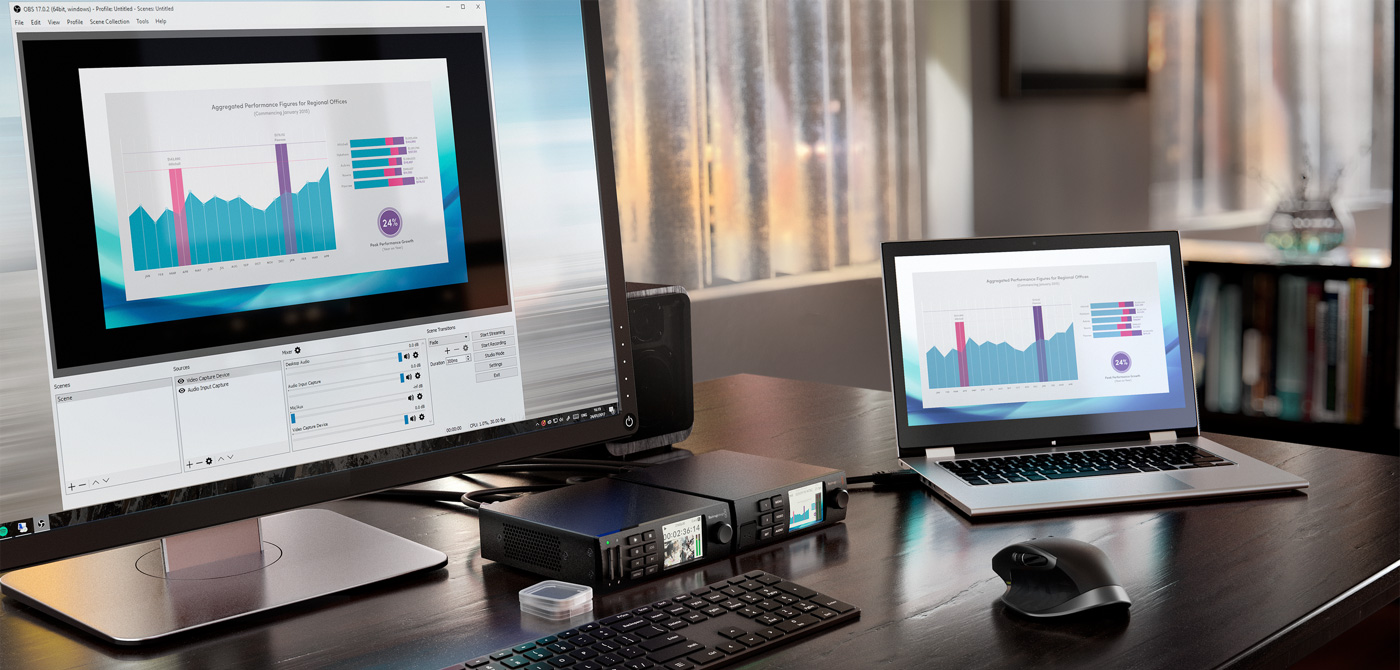 Connectivity
Video Input
6G-SDI: 1 x BNC
Video Output
6G-SDI: 2 x BNC
HDMI: 1 x HDMI (type A)
Audio Input
None (embedded audio only 16 channel)
Audio Output
None (embedded audio only 16 channels SDI, 8 channels HDMI)
Reference
In: Tri-Sync or Black Burst
Out: Tri-Sync or Black Burst
Input Connector: 1 x BNC
Output Connector: 1 x BNC
Device Control
1 x RS-422 deck control port on DB9 female
Ethernet
1 x RJ-45 for remote operation
Computer Interface
1 x USB-C connector for software updates and HyperDeck Utility software control
Media Interface
2 x SD slots for SD, HD and UHD recording
Media Type: UHS II and able to support ProRes 4444 playback and 422 recording
Standards
Supported Resolutions
4K
3840 x 2160p: 30/29.97/25/24/23.98

HD
1920 x 1080p: 60/59.94/50/30/29.97/25/24/23.98
1920 x 1080i: 60/59.94/50
1280 x 720p: 60/59.94/50

SD
NTSC
PAL
SDI Compliance
SMPTE 259M/292M/296M/425M
SDI Metadata Support
HD RP188 and closed captioning
Video Sampling
4:4:4:4
Color Depth
10-bit
Color Space
REC 601, REC 709
Audio Sampling
Television standard 48 kHz, 24-bit
Supported Codecs
Apple ProRes 422 HQ QuickTime
ProRes 422 QuickTime
ProRes 422 LT QuickTime
ProRes 422 Proxy QuickTime
System Requirements
Operating System
OS X 10.1 (El Capitan) or later
Windows: 8.1/10 64-bit
General
Rack Height
1RU
Power Supply
100 to 240 VAC
Operating Temperature
41 to 122°F / 5 to 50°C
Storage Temperature
-4 to 113°F / -20 to 45°C
Relative Humidity
0 to 90% non-condensing
Dimensions
5.51 x 1.75 x 6.69" / 48.3 x 4.4 x 17 cm
Weight
1.28 lb / 0.58 kg
Packaging Info
Package Weight
2.2 lb
Box Dimensions (LxWxH)
8.9 x 7.7 x 2.3"
We understand that sometimes you may need to return a product you have purchased from Vizcom Technologies. To assist you, we have set out the Vizcom Technologies Returns Policy in more detail under our terms and conditions page.
1. Australian Consumer Law
Our Returns Policy includes, and does not seek to exclude or limit, the rights you have under the Australian Consumer Law (if you are a consumer) and other relevant laws.
If you are a consumer under the Australian Consumer Law:
Our goods come with guarantees that cannot be excluded under the Australian Consumer Law. You are entitled to a replacement or refund for a major failure and for compensation for any other reasonably foreseeable loss or damage. You are also entitled to have the goods repaired or replaced if the goods fail to be of acceptable quality and the failure does not amount to a major failure. For more information on product warranties please refer to the individual manufacturers warranty period.
---
Vizcom also Recommends
QUESTIONS & ANSWERS
Have a Question?
Be the first to ask a question about this.
Ask a Question